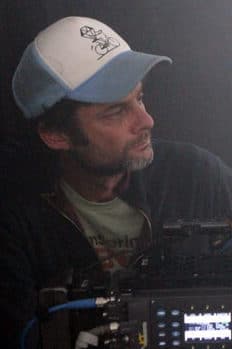 David Auerbach

| 1st Assistant Camera
David Auerbach was born in Paris and grew up in Salzburg, Austria. In 1993, David moved to Los Angeles to attend the L.A. City College Film School. After graduation, David worked at Clairmont Camera for two years before starting work as a freelance Camera Assistant and joining the Local 600 Union.
David notes that his experience as a cameraman on documentaries has taught him to think fast and how to best utilize or recreate natural light in any given situation.
In 2007, David lensed the documentary Zen & Zero which garnered over 30 International Film Festival Awards, including Best Camera Awards at Festivals in Brazil and Chile.
Red Lopez was shot on an Arri Alexa in 4:3 anamorphic mode with a set of four vintage Hawk lenses (provided by Otto Nemenz Int.) The stunning Uinta mountains near Park City, Utah formed the backdrop to the outdoor scenes in the film.  The indoor scene was shot during a single night shoot in a period true building that functions as a museum during the day time.
David recently finished his first documentary 52-The Trolleybus serving as both cameraman and director.  The documentary, which premiered at the 2017 Mammoth Lakes Film Festival, was awarded the Jury Prize for Best Short Documentary.
David's mentors in the business are fellow ICG members, Eric Treml and Heimo Ritzinger, with whom he has been friends since his childhood days in Austria.