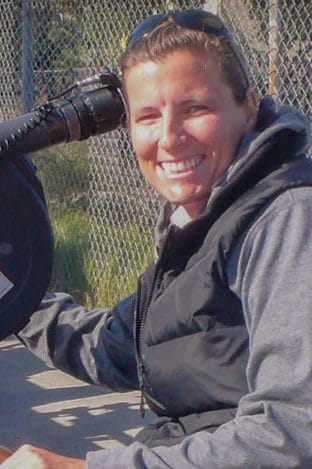 The daughter of a well-known German photojournalist, Alexa Ihrt got her hands on still cameras at a very early age and would later decide to take her photography to the next level: moving images. She left Hamburg for Munich to be an apprentice at camera company ARRI. During an overnight trip that had her deliver camera gear to a Schindler's List set in Krakow, Ihrt promised herself she would one day try her luck in Hollywood.
After a number of camera assistant jobs for big European directors, she finally made good on her promise and set out for the United States.
Ihrt first attended the International Film Workshops in Rockport, Maine, and was then accepted at the American Film Institute's Cinematography program. She moved to Los Angeles and got a once-in-a-lifetime chance to learn from masters like Allen Daviau, ASC; Michael Ballhaus, ASC; and Vittorio Storaro, ASC, AIC; before graduating in 1998.
Ihrt first joined the Local 728 Union as a gaffer and in 2010 joined the Local 600 Camera Union as an operator.
As a DP she went from short films to music videos to commercials to documentaries and features, shooting in the Americas as well as throughout Europe, Asia and Africa. She credits her collaboration with crews from different cultures for greatly extending not only her toolkit and perspective, but also her passion for uncompromising, authentic stories.
One of those is Born in Battle, Ihrt's collaboration with award-winning director and bestselling author Yangzom Brauen. It tells the story of a boy who struggles with his past as a child soldier, escaping into a dream world − only to be caught up in a nightmare in which he has to make a choice of life and death all over again.